Riding the Second City Divide - Jade Field
Tuesday 22 February 2022 Filed in: General
The Second City Divide - Packing some of the best gravel in the UK and over 38,000 feet of elevation into just over 360 miles between Glasgow and Manchester.

I like riding in bad weather, love riding gravel and had invested in a 4-season sleeping bag last year, so when my seasoned ultra-distance racing pals Danny and Carl said I could tag along with their attempt of the Second City Divide in November, I was super keen.

I honestly couldn't think of a better use for my remaining annual leave, nor anything I'd rather be doing in November. I warned them both they might have to wait for me at the bottom of any long, technical descents and packed up my warmest layers, some extremely trendy waterproof trousers and a pair of emergency wool socks my grandma knitted me.

Despite a little fall off the bike on my way out of Glasgow, we were soon climbing up into the wind farms on smooth gravel fire roads. It was quiet and peaceful, with just the hum of the turbines as we made our way south.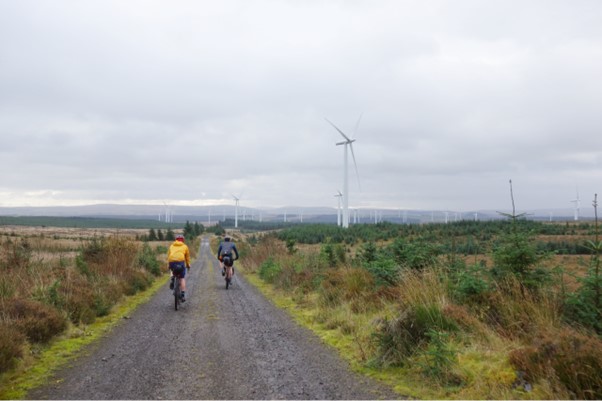 Most of the first day's route took us through various wind farms, culminating in a long climb up and around Tinny Bank in the dark, before winding our way around more turbines and dropping down to Talla Reservoir. The climb from Talla Reservoir was pretty technical but we were soon wading across the freezing cold river to Gameshope Bothy.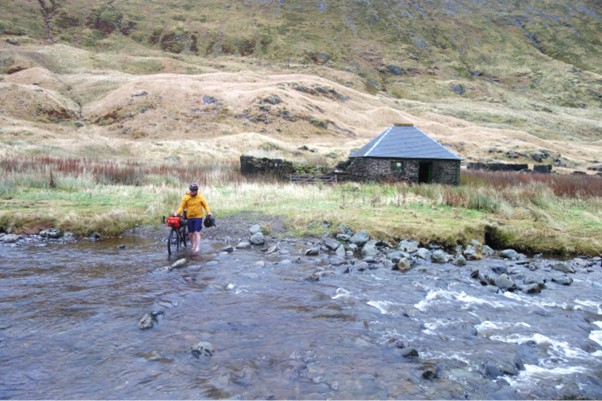 From the edge of the bothy, in the morning I was totally blown away by how beautiful the valley was. The fun technical descent, quickly followed by the 'Wall of Talla' road climb made for a cracking start to the day.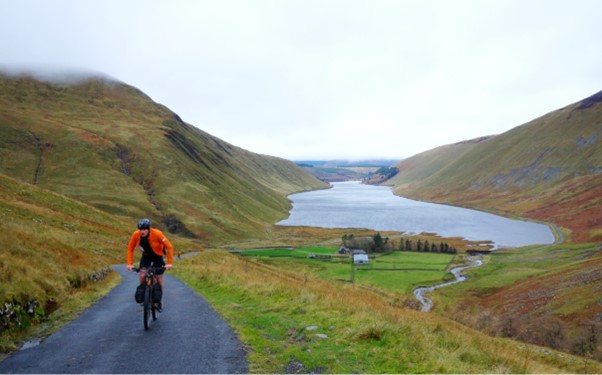 Unfortunately, our high spirits were dampened slightly when we arrived at the Glen Cafe for our breakfast only to find it closed. Fortunately, the lovely owner was there and happy to fill our water bottles. We found an all-day breakfast after another great climb and descent through a forest, at the Tushielaw Inn.
In the afternoon we did the infamous cut through, now a pretty obvious path due to all the cyclists this year and were soon climbing up to the border and dropping down to Kielder Water. After a big dinner at the forest bar and kitchen we climbed up to Green Bothy in the dark.
We had a late start and breakfast in Haltwhistle, because Carl was having some quite serious bike issues. It was decided that as the slowest, I would crack on riding while Danny and Carl attempted to find a bike shop/fix Carl's bike. I sped off on some nice bike paths, only slightly ruined by an arduous carry of my bike down under Lambley Viaduct and back up to the top again. I managed to make it halfway up Cross Fell before Danny caught me up with the bad news that Carl had caught the train back to Leeds with his broken bike.
Cross Fell was an absolutely stunning climb, with a little hike-a-bike at the top, and we were rewarded with an excellent bumpy descent down to Blencarne. The sun was just setting as we descended, and we could see the lights of Penrith in the distance. Lots of little lanes in the dark, and we were soon climbing up to Tan Hill Inn for the night.
Following a pretty decent fry up and a text from Carl saying he had sorted his bike and would meet us at Ribblehead we descended into the dales. I had been worried about this day! Even though I'd ridden most of the incredible off-road sections in preparation for this day, I knew it would be our hardest day and I was right. We descended along an epic valley following the River Swale before climbing Oxnop Scar Road in the sun.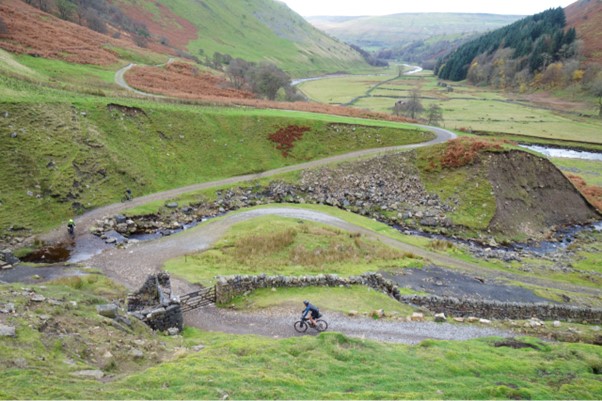 After a quick brake check in Askrigg we started the tough but enjoyable Cam High Road, made even harder than usual by a very strong headwind. A little later than planned we joined Carl at the pub by Ribblehead for a quick lunch. Danny had managed to lose his Wahoo, go back up Cam High Road and find it by this point.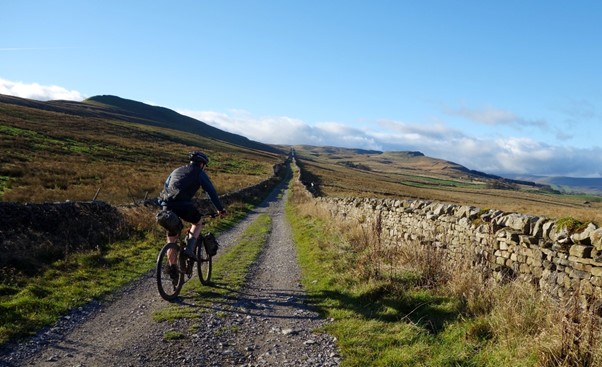 More nice lanes, a bit of rain and some very stabby climbs and we were finally riding Salter Fell. I'd been hoping to get out to ride Salter Fell for a while, and it was great even in the dark. Sadly, Carl's bike decided to fully give up on being rideable at this point, and he again had to call it a day and make for the nearest train station. Me and Danny had dinner at McDonalds in Colne before riding one of my favourite bits of the Pennine Bridleway (the bit of PennDuro with the switchbacks). It was a very long day, with some of the toughest bits of the route.
Sunday was frosty, clear and cold and it finally felt like winter. We only had 50 miles to go and we set off hoping for some hills to warm us up. We climbed up onto Rooley Moor and were rewarded with some amazing views. I think we could see Manchester in the distance. but we still had some serious climbing to do so we skirted around Manchester over the moors, doing some more of the Racing Collectives' PennDuro route (which I had not seen in the daytime before), before climbing up to Hartshead Pike.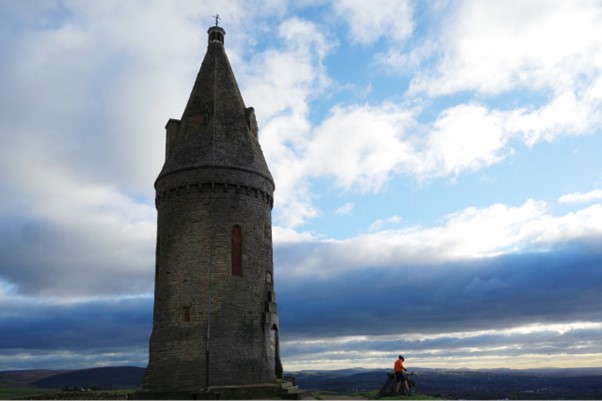 Looking down on the city we were optimistic about potential trains home. We faced the last few big climbs before finally dropping onto a canal path into the city centre. Where we stocked up on snacks and drinks (beer for Danny, tea for me), and managed to get our very muddy bikes onto the train back to Leeds as planned.
The weather had been so much better than I thought it would be - warm(ish) and not too wet. The route had been incredible - so many awesome bits of off road, linked up with nice country lanes and some steep road climbs. Tough, technical gravel, long days in the saddle, an officially hilly route, quite a bit of riding in the dark - a perfect November UK bikepacking adventure.