Meet Endurance Rider: Jade Field
Tuesday 10 May 2022 Filed in: General
Jade Field, a long time friend of Woodrup Cycles, is this months highlighted rider.

Tackling everything from fixed gear treks to racing ultra long distance multi-day races, she loves nothing more than being on her bike. You'll regularly see her race reports and blogs on the Woodrups page as we actively support her challenges, so we thought it'd be cool to get her to answer a few questions so you can get to know her and keep a look out for the next instalment of her epic adventures...

1) How did you get into ultra distance bike riding?
I started off riding a fixed gear bike around Yorkshire 10 years ago and soon after started bikepacking with my friend Meg.

A few years later I convinced my bike mechanic boyfriend that we should quit our jobs to cycle tour the world for a year or so. Over 14 months we cycled to New Zealand and back and I fell in love with riding my bike everyday. I thought that when I came back from touring, my mileage might drop but I am still doing the same as when I was touring (over 10,000 miles a year!), but I am also also working full time. I just love riding my bike! Needing to be out in the fresh air and having adventures on my bike, I quite naturally fell into ultra distance riding.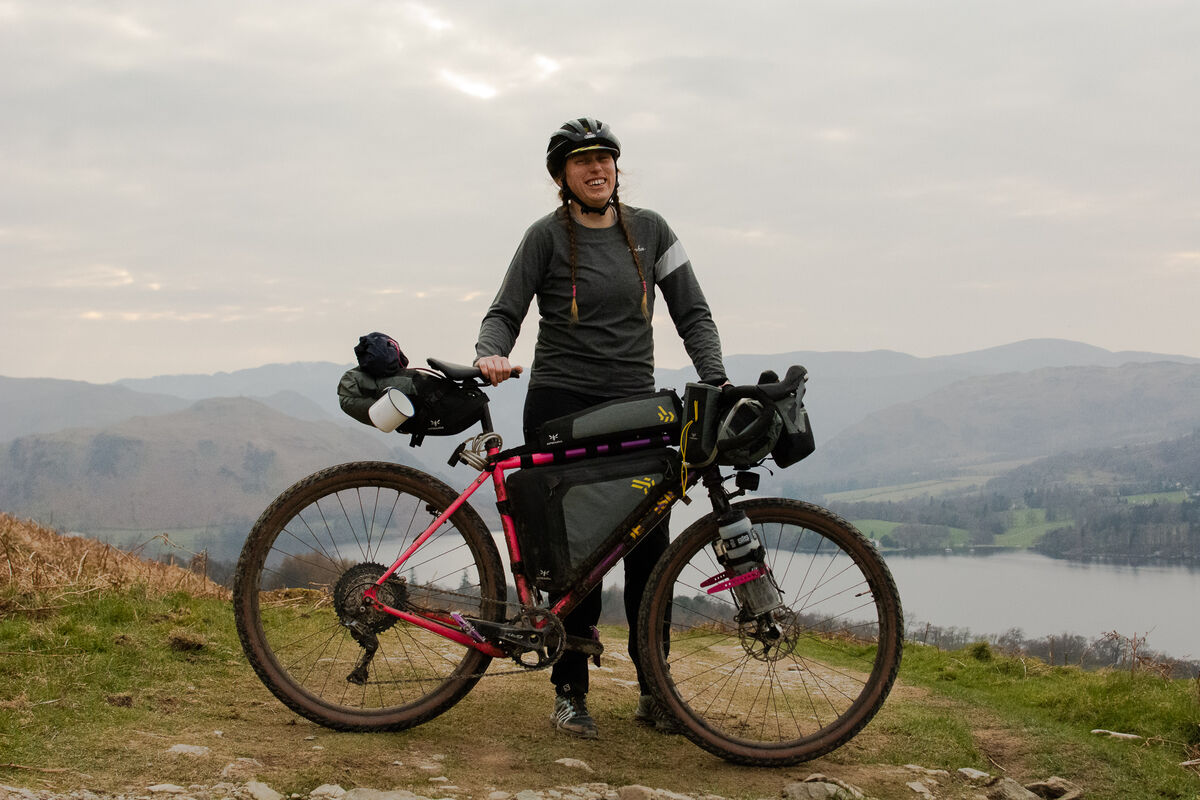 2) How do you describe yourself as a cyclist?
I'd describe myself as slow (which is completely relative to who you are comparing yourself to. In reality I'm pretty mediocre - faster than some, slower than others) and very very determined. I ride everything but I'm not fast enough to call myself a roadie and not skilled enough to call myself a mountain biker. An off road cyclist mainly, though I still ride my fixed gear a lot!
3) What's your current bike setup?
My main bike is a genesis fugio which has been kitted out for technical, chunky gravel - I've used it for MTB routes like the Lakeland 200(km) and the Peaks 200(km) this year, and will be doing Highland Trail 550(miles) on it soon.
4) What's your power food of choice when you're flagging during a bikeride?
I struggle with snacking - much more into a three course pub lunch! But a chucky slice of Brie is a good on the bike snack. I'm really into outdoor provisions nut butters and if things get really dire I'll break out the super sour fizzy sweets. I have been known to carry an emergency cured sausage on a bikepacking trip!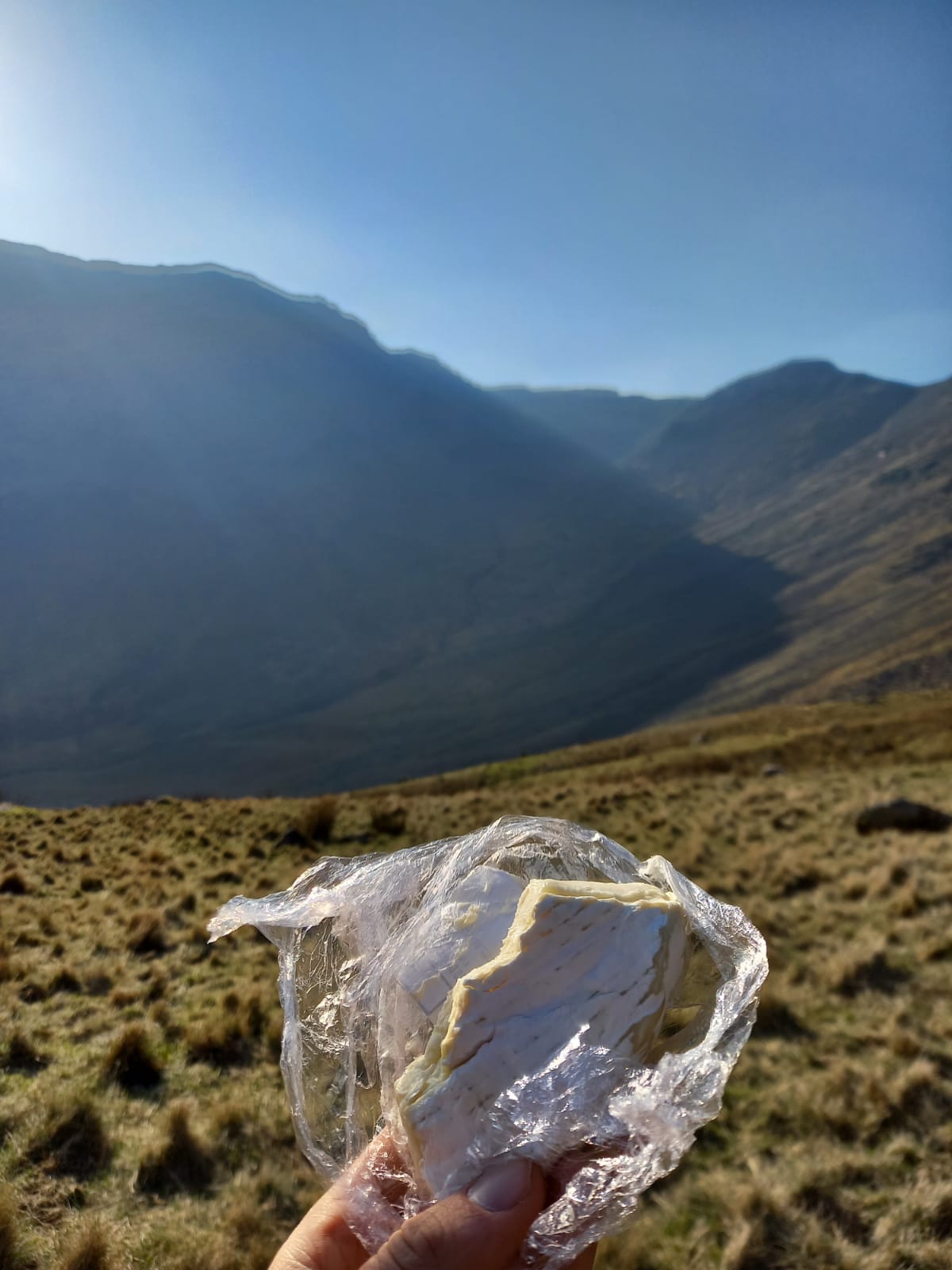 5) What are your favourite conditions to ride in?
This is a hard one!
I love it when it's sunny, warm and dry, but I also quite enjoy cold, wet and windy rides as long as I have the right kit on. I LOVE riding in the snow. I've ridden in all conditions now, from below zero during Yorkshire winters to over 45 degrees C in the Kazakhstan desert, and I always have a good time! I think my least favourite is when it's really windy, as I get quite scared about being blown off my bike.
6) What do you like so much about being out on a big challenge?
I love just being out on my own, slowing working towards finishing a big goal - nothing else matters and I enjoy things being a bit hard and uncomfortable. I also get a great feeling of satisfaction in finishing something, especially if I wasn't sure I could!
7) When you're really tired, how do you keep yourself moving?
I just try to accept the tiredness, it always passes! I am very stubborn and giving up always feels harder than keeping going.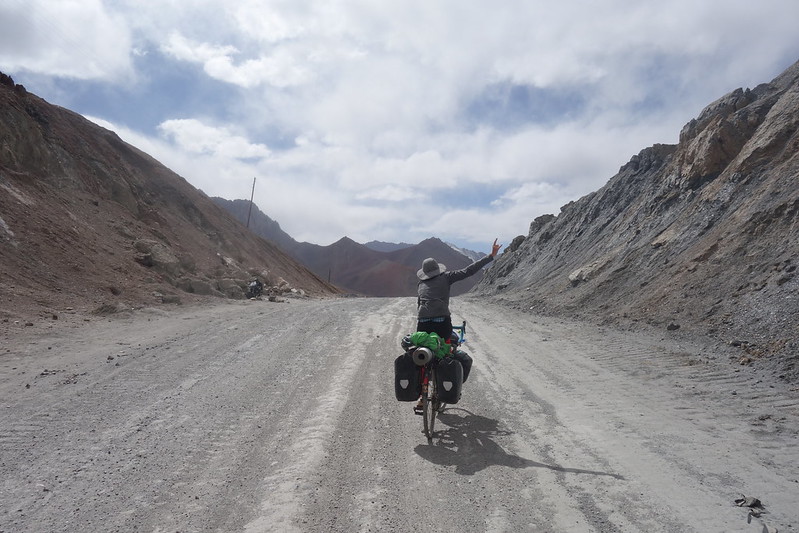 8) If you had £10,000 to spend on a bike, all your kit, and 12 months off work, obviously you'd spend most of it on a bike - what bike would you get, what kit would you get and where would you go?
To be completely honest, I am not into the techy stuff around bikes really, so I don't know what I would get! I'd probably pop into Woodrup Cycles and say I want a drop bar touring bike that I can put MTB tires on, with a Rohloff hub and belt drive, and let them build something perfect for me! It would need to be suitable for touring and I would prefer it to be purple and glittery. Over the years, I have slowly found and collected the kit that suits me best, so I would probably use what I have. I have been dreaming of South America for a while now - so I would either head straight there or fly to Canada and ride all the way down the Americas.
9) What's the one piece of kit that you would not go without on a big adventure or one piece of kit that always helps and makes you feel good?
I take a lot of spare clothes including merino pyjamas and extra layers, as I don't like being cold at night. I don't go without pyjamas even on ultra-races! On a long tour I would take my Kindle for the evenings.
10) What is one thing that you know now as a seasoned ultra rider that you wish you'd known when you started doing longer multiday rides?
Eat and drink way more often than you think you need to. I never feel hungry outside of meal time so I really have to force myself to snack, but it pays off! And get off the roads - the trails might be slower but they are far more enjoyable!